Mercedes Marxist FAIL: Michael Moore's Broadway Show Closed How Soon After Opening LOL?
Pompous prodigiously-sized progressive propagandist Michael Moore had big ambitions for his one-man Broadway show, titled The Terms of My Surrender.
Not only was his show to be successful, he claimed it would bring down President Trump.
Uh… no.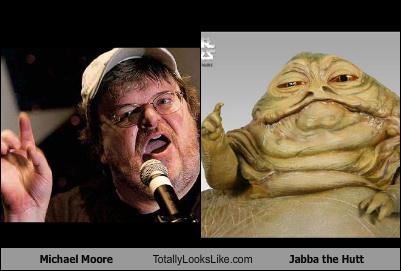 An artistically interpretative depiction of Michael Moore (Source: TotallyLooksLike.com)
In fact, the show didn't even last 3 1/2 months … and that's including the preview period.
The Wall Street Journal reports:
In its 13-week run, including a preview period, the show had ticket sales of $4.2 million, according to BroadwayWorld.com, a theater website that tracks grosses based on data from the Broadway League, a trade group. That figure represents only about 49% of the show's potential gross.
Mr. Moore's largely one-man production started on a strong note, taking in $456,000 in its first full week. But it quickly fell well under that mark, with ticket sales dipping below $300,000 in some subsequent weeks.
By contrast, Bruce Springsteen's show, also largely a one-man affair, has taken in nearly 100% of its potential gross in two of its first three weeks. The rock star's production, simply titled "Springsteen on Broadway," already has grossed a total of $6.6 million, far eclipsing Mr. Moore's show.
HELP SPREAD THE NEWS ABOUT MICHAEL MOORE'S FAILED SHOW (WITHOUT HAVING TO WORRY ABOUT INADVERTENTLY GIVING HIM PUBLICITY). SHARE!!!