Black Power-Fist-Raising NFL Team Makes It 32 Losses In 34 Games! Lose in OT to "No one's telling you to come to the game" Team
Three Sundays ago, members of the Cleveland Browns took the league-wide protesting/ disrespecting of our country, our President and our troops to an unprecedented level by giving a "black power salute" during the playing of the National Anthem during their home game against the previously winless Cincinnati Bengals. The Browns ended up losing that game, 31-7.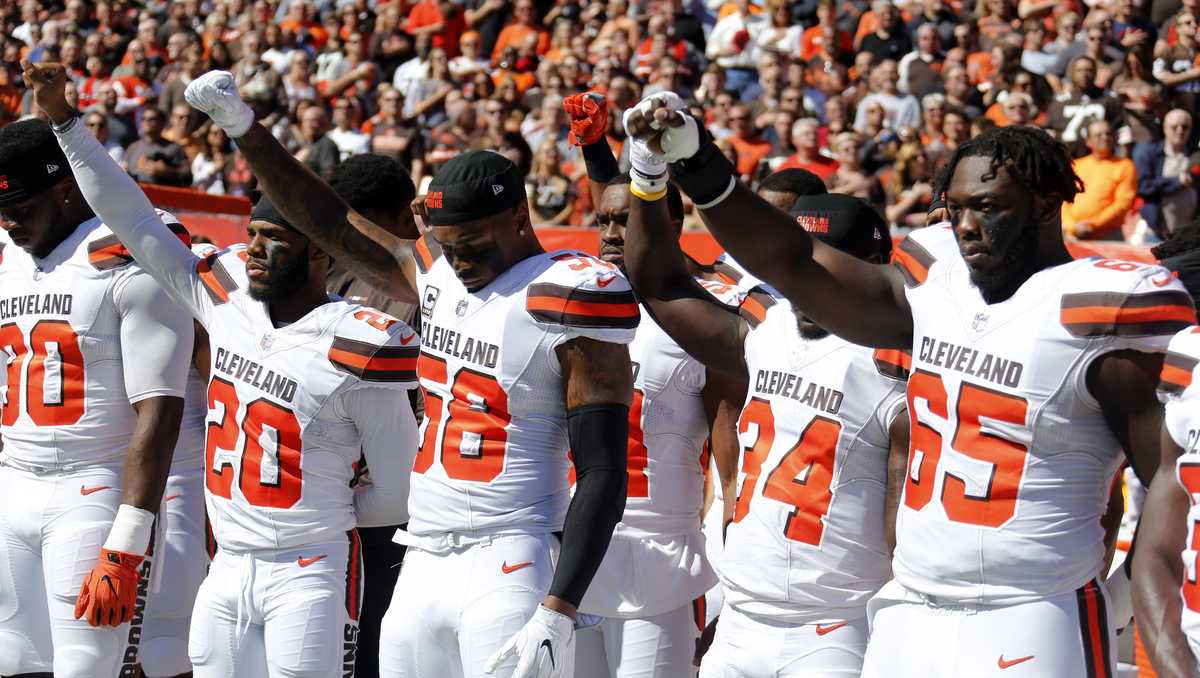 The New York Times reported then:
[A]t least nine [Browns] players raised their fists during the playing of the song. The players with raised fists were Christian Kirksey, Jason McCourty, Randall Telfer, Isaiah Crowell, Briean Boddy-Calhoun, Larry Ogunjobi, Kenny Britt, Dominique Alexander and Ibraheim Campbell.

It should be noted that Crowell made the news last year for posting, on Instagram, a graphic image of a black man slitting the throat of a white police officer, ISIS-style.

Anyhow, were the Browns — a majority of whose players are black … but that's no different from the other 31 NFL teams — able to summon sufficient "power" for their matchup on Sunday at home against the Tennessee Titans?

No.

They lost, 12-9, more heartbreakingly than usual, as the game went to overtime.

The loss took to the Browns to an 0-7 record this season.. Combined with their 1-15 performance last year and their 1-10 finish to the 2015 season, they are now 2-32 over their last 34 games.

The game was even more of a gut-punch for the Browns than it may seem. As NFL.com reports:

Joe Thomas' consecutive snaps streak (unofficially at 10,363), believed to be the longest in NFL history, ended on Sunday against the Tennessee Titans.

Thomas, the team's stalwart left tackle, left in the third quarter with a triceps injury and missed the remainder of the Titans' 12-9 win in overtime.
(MORE BELOW PICTURE)
10,363 consecutive offensive plays.

What an incredible streak for Joe Thomas. pic.twitter.com/IVwRN9zcWj

— Cleveland Browns (@Browns) October 22, 2017
Incidentally, patriotic Americans should not be all that elated about the Titans' win on Sunday. Earlier this season, Titans tight end Delanie Walker had this to say about fans who didn't care for millionaire players protesting injustice, President Trump, the death of Michael Brown or whatever on company time: "And the fans that don't want to come to the game? I mean, OK. Bye. I mean, if you feel that's something, we're disrespecting you, don't come to the game. You don't have to. No one's telling you to come to the game. It's your freedom of choice to do that."
 If you are boycotting the NFL until every player STANDS, please SHARE this now!