WELL, THAT SHOULD HELP MATTERS! Get ready for explosion after Trump-supporting NFL owner refers to players as "inmates"
A new chapter in the NFL meltdown unfolded on Friday morning, as word gets around that Houston Texans owner Bob McNair, using a well-known-to-the-point-of-cliched metaphor.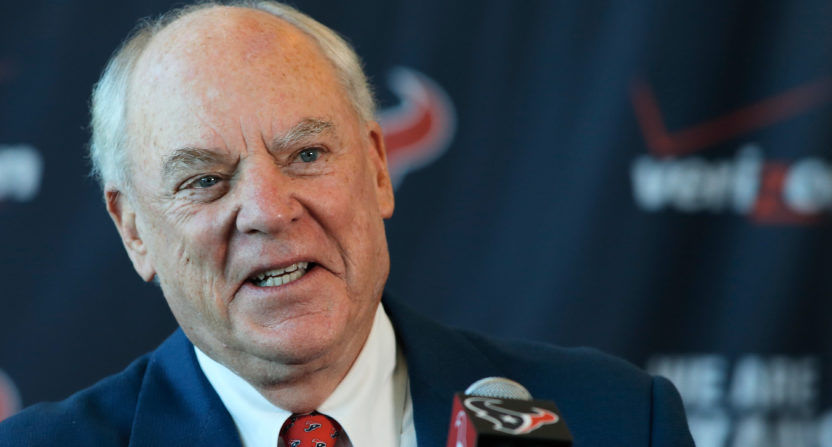 The budding controversy relates to something just published by social-justice-with-a-little-bit-of-sports-thrown-in source ESPN titled "Gaffes, TV ratings concerns dominated as NFL, players forged anthem peace"
The critical passage is the following:
[Dallas Cowboys owner Jerry] Jones believed he was one of the few showing any urgency on the matter and seemed to be more frustrated that not everybody was listening than he was passionate about the mandate.

As Jones spoke, [Washington Redskins owner Dan] Snyder mumbled out loud, "See, Jones gets it — 96 percent of Americans are for guys standing," a claim some dismissed as a grand overstatement. [Houston Texans owner Bob] McNair, a multimillion-dollar Trump campaign contributor, spoke next, echoing many of the same business concerns. "We can't have the inmates running the prison," McNair said.

That statement stunned some in the room. Then Kraft, who is close friends with Trump, politely rebuked the hardliners, saying that he supported the league's marketing proposal and predicted the issue would work itself out over time. This argument seemed to find a receptive audience in the room.

Needless to say, people looking to be "offended" are making sure everyone knows how offended they are (while making it clear .
Dear Mr McNair: The horses you own are different than humans you do not own. Check with Mr Allen up north.
Go @Seahawks https://t.co/ZxFLLqlmZA

— Kenny Mayne (@Kenny_Mayne) October 27, 2017
He later apologized but comment from McNair is a poor choice of words in an already sensitive situation. https://t.co/3mKJLpmUAL

— Michele Steele (@ESPNMichele) October 27, 2017
And of course, the overall fanning of flames on this topic would not bomplete without the take of a certain eventually-had-his-biography-uncovered-and-exposed-for-being-100%-white luminary:
Bob McNair, owner of the @HoustonTexans, speaking of NFL players protesting said, "We can't have the inmates running the prison."

— Shaun King (@ShaunKing) October 27, 2017
And needless to say, the rift between NFL players and the NFL fan base is likely immediately to grow significantly further, to the detriment of the league and its declining revenue stream.
Related to "inmates," it should actually be noted that the NFL has now gone a full month without any of its players being arrested. (However, players are probably least likely to be arrested is the first half of the NFL season, a time when they are quite busy and each team,  theoretically at least, has a chance to make the postseason.)