Bill Clinton Did WHAT With Now-Revealed-As-Child-Molester Kevin Spacey?!?!
Yes, the Deep State will do all it can, via Robert Mueller and otherwise, do distract from the Democrat-Hollywood nexus coming apart at the seams, but these stories just have a way of coming out anyhow.
We just learned in the last few days that major Democrat activist and actor Kevin Spacey sexually assaulted actor Anthony Rapp when Rapp was 14. (Spacey has tried to deflect from the story by coming out of the closet as a gay man.)
Now we have learned that Spacey rode Jeffrey Epstein's "Lolita Express" private jet with not-yet-convicted serial rapist Bill Clinton.
Spacey was on board Epstein's private jet with Bill Clinton when it flew from JFK Airport into the Azores before the former President and the actor enjoyed a tour of Africa.
According to Fox News, Epstein, "Allegedly had a team of traffickers who procured girls as young as 12 to service his friends on "Orgy Island," an estate on Epstein's 72-acre island, called Little St. James, in the U.S. Virgin Islands."
Bill Clinton took at least 26 trips on the Lolita Express, a luxury jet fitted out with beds where prominent elitists allegedly had sex with young girls, ditching his Secret Service detail for 5 of those trips.
Clinton chose to continue his association with Epstein even after, according to the Alliance to Rescue Victims of Trafficking, "everyone within his inner circles knew was a pedophile."
Epstein also reportedly had 21 different phone numbers for Bill Clinton.
While there is no evidence to suggest Spacey engaged in criminal activity while on board Epstein's jet, his admission that he sexually assaulted a 14-year-old boy is sure to provoke further questions.
As we reported last week, actor Corey Feldman has announced a plan to expose top Hollywood pedophiles who he says are being protected by the industry.
The Twitterverse has been in a flurry regarding Spacey:
The 1st PEDOPHILIA stuff is starting to come out with Kevin Spacey now…

— KirkPowersBurkhardt (@kirk_burkhardt) October 30, 2017
The Hollywood Cesspool melts into the DC Swamp

— John Wick (@TrumpSelfFunds) October 30, 2017
This recent Antonio Branco cartoon sums up so much, although it should be noted that what has Spacey's history of sexual assault, unlike with Bill Clinton and Harvey Weinstein, is not heterosexual: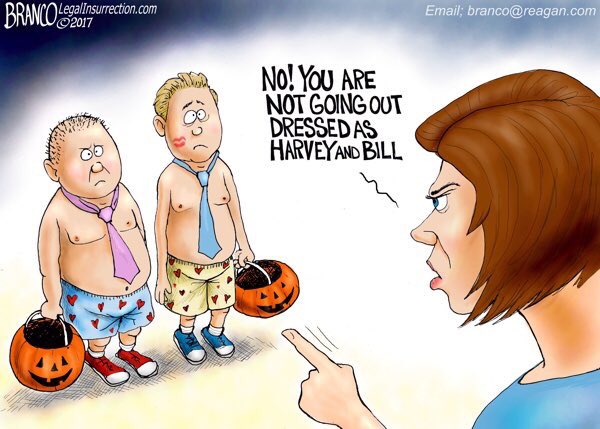 Source: cartoonist Antonio Branco (ComicallyIncorrect.com)